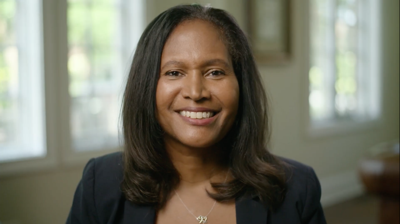 Ald. Sophia King (4th)
Ald. Sophia King (4th) says she would bring a different approach to leading Chicago than Mayor Lori Lightfoot has led, rebuking the city's executive for her relationship with alderpersons and council that she said is holding the city back.
As chair of the City Council Progressive Reform Caucus, King said she has pushed the mayor for many of the left-of-center policy proposals that have been enacted during her administration. 
"When you talk about leadership, people want someone who can bring people together. I think I've shown that in many ways," King said in an interview. "I led the 'Fight for $15.' We sat down with labor, with businesses, with community folks, with people who work in the industry and collaborated on getting to a $15 minimum wage."
"The Bronzeville Lakefront Development, the former Michigan Reese development, is being heralded as one of the most equitable developments in the country. But that didn't come without tension. There was tension in the community about what that was going to be. I sat down and created the Michael Reese Advisory Council, which got pushback early on but then became the model of how we do development in the city. That collaboration brought real benefits to the community."
The multi-billion-dollar development is being marketed as "a new mixed-use health innovation district" across more than 100 acres, with residential and commercial opportunities as well as green and community spaces. GRIT Chicago LLC, the project's consortium of developers, has pledged $25 million for educational facilities near the site as well as internships, local contracting and hirings in Bronzeville.
"We sat down, listened and had tough discussions, and we came out with an equitable development, where the developer will see upsides but the community will, too," King said. "That's not what we've been used to. And when you talk about the other striking developments, whether it's the 78, Lincoln Yards or even the Obama Foundation — they all had some form of protest."
If elected, King promised tough discussions on the front end: "Hard decisions that will have to be made, but they will be very informed decisions because of those discussions."
A 2021 study from the University of Illinois Chicago Department of Political Science found, however, that King supported Lightfoot's position in her council votes 94% of the time. She has voted for all of Lightfoot's budgets, saying in 2019 that she believed Lightfoot was "cautiously leading us in the right direction." But she said that year that there had been left "progressive and structural revenue on the table." 
Two years later, King, as chair of the progressive caucus, said there were wins in the budget to be voted on, even though "we didn't get everything that we wanted."
"Just because you vote with somebody, I mean, good votes come down to (trying) to build consensus in this city," King said in the interview. "You're trying to do what's right in the city."
She pointed to the recent vote around speed cameras: Lightfoot had decreased the threshold for which motorists get fined for speeding, so that people going 6 to 9 mph over the speed limit get $35 fines. The cameras are posted near Chicago parks and public schools. A bid by some alderpersons, including King, Leslie Hairston (5th) and Jeanette Taylor (20th), to repeal that lowered threshold failed last month.
"There was this false choice between safety and equity," King said. "The reason that I voted against that was because we were given this false choice. We already knew that these cameras were predominantly in Black and brown communities and it disproportionately impacted us."
Lightfoot initiated the lowered threshold in March 2021.
"By executive order — not asking anybody, not talking to anybody," King said. "What happens now is that we've doubled-down on those folks who are already struggling. Really, there's no equitable distribution. We could have distributed those cameras more equitably.
The alderpersons' move to end the lowered threshold spurred pushback from bicyclists and other "folks who are concerned about safety," King said, "as if we're not concerned about safety. It's just a false narrative." 
A WBEZ analysis of the lowered threshold found that there was around a 400% year-to-year increase in tickets issued after it went into effect and that the fines generated $105.9 million.
"We spent a lot of time and energy fighting a false fight," said King. "As a leader, I would have said, 'Listen, let's redistribute the cameras in places where we'd perhaps make even more money, but it'll be a more equitable distribution."
King said the status of policy making between the mayor's administration and the council is the key driver in alderpersons not running for reelection. This year, nine had either announced pending retirements or quit before King announced her mayoral candidacy. 
"We took away energy from other things that we could have been doing fighting over little stuff to get to that point," King said of the aldermanic work environment. "That leadership can't be sustained. You are losing good people and institutional knowledge."
King said she would recognize alderpersons' "equal authority over the city."
"I understand my fellow city councilmen. I understand how hard they work and the role that they play in the community," she said. "And by the way, we share the same constituents. If they're doing a good job in their communities, then that is reflected on the entire city. We are duly elected to represent our city, and we understand our communities better than anybody." 
Other alderpersons — including ones who supported her in the 2019 mayoral election — have publicly broken with Lightfoot this year. Neither of the other two local alderwomen, Hairston and Taylor, backed Lightfoot three years ago, but both have made their unhappiness with her leadership known in City Hall and outside of it.
King said she is not someone who seeks out tension. "I'm not a combative person," she said. "But I have had some heated discussions with the mayor. They've been outside of the media, where I think those discussions should happen."
She said an ability to build relationships with the mayor is missing, which she said is leaving the city in crisis.
Above all else, King has made public safety the cornerstone of her announcement— a common tactic among mayoral hopefuls this election cycle, such as local State Rep. Kam Buckner (D-26).
"We can have safety and justice," she reiterated. "It takes a leader to articulate that. We can both support our police and hold them accountable. They shouldn't be mutually exclusive."
King noted the 4th Ward's overlay of several communities down the South Side lakefront from downtown to Hyde Park; in every community, she said the top request she gets is for more police presence.
She has long been critical of the 2011 restructuring of Chicago Police Department districts, which she says has led to fewer officers working in and around her ward. "Our police are not distributed equitably, and there are not more police in the most violent neighborhoods," King said. She wants to change that. 
She also noted that the majority of 9-1-1 calls are for nonviolent offenses, calling for more funds budgeted to social service professionals to deal with homelessness and mental health issues. Having those professionals to respond to emergencies will mean police do not have to.
And King thinks there should be more targeted law enforcement against "known folks in our communities who are wreaking havoc" to "put them on notice."
She suggested there be opportunities like paid job training and trauma-informed care for a more compassionate criminal justice agenda. She said billions of dollars in federal money the city received through the 2021 American Rescue Plan remain to be put into place for that social policy agenda.
"We know if we do this well, it will be a limited problem. We will find our way out of this. We will have people getting jobs, they will start to earn money, they will start to buy homes, they will invigorate our economy."
Lightfoot's administration has been marked by a revolving door of top-level staff; observers have noted her relative lack of managerial experience becoming the mayor of the third-largest city in the United States. Her predecessor, Rahm Emanuel, was a congressman and White House chief of staff. Richard M. Daley was the Cook County state's attorney, in charge of hundreds of lawyers and prosecuting in the nation's second-largest county. Harold Washington was a congressman. 
King does not have that kind of work experience, but she noted her administrative experience in Chicago Public Schools — she at one point ran the district's Sports Administration Department. She noted her position with the progressive caucus, working relationships with various municipal stakeholders, and that the 4th Ward contains, in addition to its varied communities, municipal assets like Grant Park, Northerly Island, the Museum Campus and Soldier Field. 
"The key point is relationships. I think all those things put me in good stead to lead this city," she said.
Conventional wisdom is that all the candidates of Chicago's 2023 mayoral election have yet to announce. King, for her part, says she will not back out of the race now that she's entered it. (That means the 4th Ward will have an open seat aldermanic election next year.)
"This is not a decision we made lightly, but it is a decision I will see through to the end," she said. 
She is the third sitting alderperson to announce mayoral candidacy, joined by Ald. Ray Lopez (15th) and Ald. Roderick Sawyer (6th). Other challengers include State Rep. Kam Buckner (D-26), former Chicago Public Schools CEO Paul Vallas, millionaire businessman Willie Wilson, activist Ja'Mal Green, Chicago police officer Frederick Collins and actor Bradley Laborman.